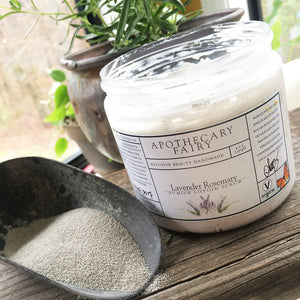 Pumice Lotion Body Scrub- Lavender Rosemary
A rich, conditioning and exfoliating lotion body scrub for use in the bath or shower. Comprised of organic, raw shea butter, pure essential oils and finely ground pumice stone. This scrub is a must-have for those with dry, rough skin. After cleansing with your lather bar, scoop out a small amount of Pumice Lotion Scrub and massage into your skin. Rinse and repeat daily or as needed. Non-greasy and will not clog pores. Also works as a wonderful foot scrub for the perfect pedicure.
Ingredients; distilled water, organic raw shea butter, organic avocado & castor seed oils, Vitamin E, coconut emulsifier, finely ground pumice stone, essentials oils of French Lavender & Spanish Rosemary, paraben-free preservative at less than 1%.