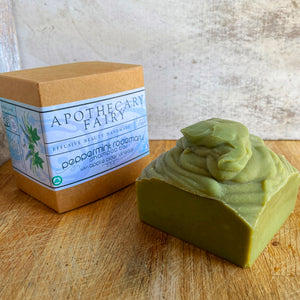 Peppermint Rosemary Shampoo Bar
Shampoo bars are a wonderful way to keep your hair clean while traveling, camping or just staying at home. They are very long lasting and better suited for hair that is shoulder length or shorter. Our vegan formula is sulphate-free and gentle on the hair. There will be a slight, natural residue on the hair after using our shampoo bar as using shampoo bars are a bit different of a pH balance for hair, but we recommend using a diluted Apple Cider Vinegar rinse (see recipe below) after washing hair with shampoo bar to remove residue and provide a slightly more acidic pH balance to the hair.
Organic oils of Castor seed, organic coconut and olive oils with cocoa butter comprise this lovely shampoo bar. This mixture is specially made to clean the hair gently and will not damage colored hair. Generous amounts of Peppermint and Rosemary essential oils are added to lend their cleansing properties while helping manage scalp conditions including dandruff. Matcha green tea, French green clay and organic apple cider vinegar are added to this blend for their wonderful scalp healing properties.
Ingredients: Fresh steeped Peppermint leaf tea, organic Apple Cider Vinegar, Saponified organic oils of Castor seed, Coconut, Cocoa Butter and Olive oil, pure essential oils of Peppermint and Spanish Rosemary, Matcha green tea, French green clay.
DIY Vinegar Hair Rinse:
Dilute approx. 1 cup of Apple Cider Vinegar to 3 cups steeped herbal tea or filtered water. Store in plastic bottle with spout. After rinsing shampoo bar suds from hair, pour vinegar rinse over hair and scalp. Work in with fingers then rinse thoroughly. Finish with conditioner if desired. Hair will not smell like vinegar. This solution will remove any residue caused by the shampoo bar and return a normal pH balance to the hair adding shine and natural texture.