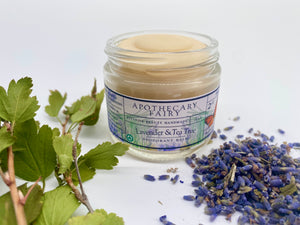 Lavender Tea Tree Deodorant Balm 2oz
A natural and effective alternative to harsh, commercial deodorants. Made with organic coconut oil, Shea butter, Vitamin E with with pure essential oils that contribute antibacterial and antifungal properties. Long lasting protection against underarm odor and in the process, will moisturize and condition skin. Consistency is soft and emollient. Easy to apply as needed.
Ingredients: Organic extra virgin coconut oil, organic Shea butter, non-gmo Vitamin E, organic tapioca root, sodium bicarbonate, pure essential oils of French Lavender and Australian Tea Tree.
NOTE: If you have a skin allergy to any ingredients in this product, just let us know. We can make substitutions. Indicate this in the special instructions portion of your order and we will contact you.