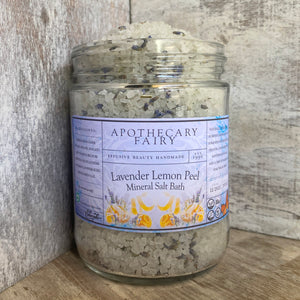 Lavender Lemon Peel Mineral Salt Bath
Mineral-rich sea salt is infused with French Lavender and Lemon essential oils, soothing organic Avocado, Flax Seed & Vitamin E oils for a purifying, relaxing soaking treatment for removing toxins, moisturizing skin and rejuvenating the muscles. Also recommended to add to a foot bath to soften and invigorate feet. Our aroma combination of Lavender with Lemon is clean, citrusy, floral and vibrant. One of our most popular blends for sure.
Ingredients; Coarse sea salt, organic Avocado + GF, non-gmo Vitamin E oils, essential oils of Lavender & California Lemon peel, ground lavender blossoms.