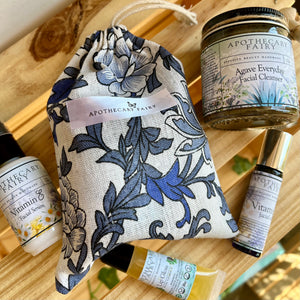 Daily Face Care Kit
Packaged in a printed AF branded linen satchel with the following products: 
4oz Agave Daily Facial Cleanser
1/3oz Vitamin E Facial Oil
1/2oz Vitamin E Lip Gloss
1oz Vitamin E Facial Serum
This is a lovely product bundle to keep your skin clean, soft and moisturized daily. Take for traveling or place on your bathroom counter. The Vit. E Facial Oil can also be applied to the cuticles, scars, acne blemishes, under eyes, eczema, nighttime serum. Our natural Lip gloss can be worn alone or over color.