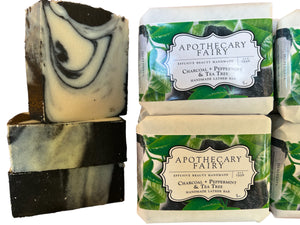 Charcoal with Peppermint + Tea Tree Lather Bar 5oz
This unique bar is especially for those with normal to oily skin. It is made with charcoal derived from coconut shells, saponified oils of organic coconut, cocoa butter, shea butter, olive, castor seed, fresh coconut milk and steam-distilled essential oils of peppermint & tea tree.
Lather is rich and moisturizing and when used directly on complexion and body, this blend will help to normalize ph balance of skin while helping skin feel smooth and soft. Gentle enough to use daily.