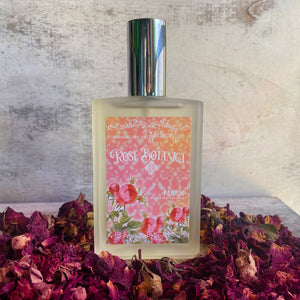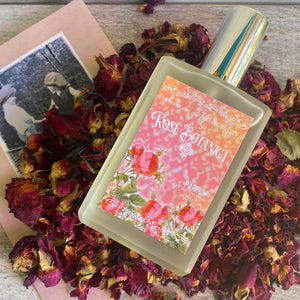 Rose Botanica Eau de Parfum
My grandmother grew many varieties of roses in her California garden. I would close my eyes as a little girl and smell every blooming rose. She had lighted, red velvet lined curio cabinets with miniature porcelain tea sets made in Denmark, all with painted roses. She would even pick the rose hips to make homemade rosehip tea. She showed me how to dry the petals and how to extract natural fragrance. She had an artful eye and a passion for the old world. 
This formula is in an denatured alcohol base as a concentrated parfum. It has been blended and cured with a proprietary blend of essential oils, attars, resins and phthalate-free fragrances. Notes of Fresh Damascus with Tea Rose for a sweet, fresh long-lasting floral parfum. Smells like blooming summer roses and badassery. Falling fresh petals on a hot, summer afternoon, lingering sweet rose scent with slight citrus undertones. 
Apply to pulse points, use very small amount. For further extending and enhancing the fragrance, layer with our Crushed Rose Petal with Lemon body lotion. Romantic true, fresh rose blossom with a slight citrus undertone.