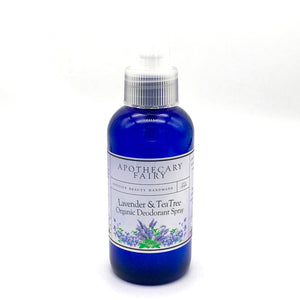 Lavender & Tea Tree Organic Deodorant Spray 4oz
Our organic deodorant spray is chemical-free and super effective, and is easy to use. Simply made with organic ethanol and pure essential oils with antibacterial properties. Our organic deodorant spray will keep you odor free all day. Apply 2-3 sprays to each underarm area. Apply again every 8 hours if needed. This product will not act as an antiperspirant as your body needs to perspire to stay healthy. We just help you smell better in the process without any aluminum, parabens or fragrance oils. 
Ingredients; Organic Ethanol, Distilled Water, Lavandula Angustifolia (Lavender) Oil, Australian Tea Tree Oil. 100% Paraben-free. Flammable! Keep Away From Heat.