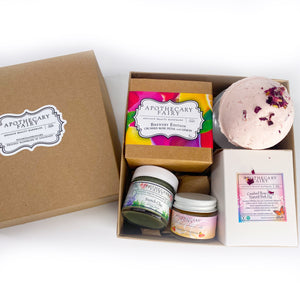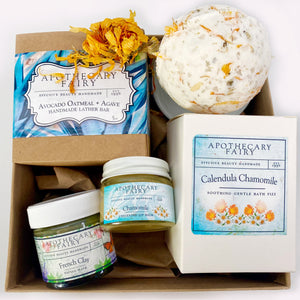 Self Care Kit
You can only care for others if you care for yourself first! This is a sweet little box of hand-picked skincare that will help you restore, relax and regenerate. There's nothing quite like a warm soaking bath, a hydrating face mask, gently cleansing lather bar and a lip salve to make you feel human again. Enjoy some
me-time or select as the perfect gift for that someone who needs a little boost.
Self Care Kit contains: 1oz French Clay Facial Mask, 3oz Mineral Bath Fizz, 5oz Face/Body Soap and .8oz Lip Salve.
Lavender + Chamomile
1oz French Clay Facial Mask, 3oz Lavender Oatmeal Bath Fizz, 5oz Lavender Chamomile Soap, .8oz Chamomile Lip Salve
Roses + Grapefruit
1oz French Clay Facial Mask, 3oz Crushed Rose Petal Bath Fizz, 5oz Crushed Rose with Lemon + Agave Soap, .8oz Tangerine Grapefruit Lip Salve

Rosemary + Mint
1oz French Clay Facial Mask, 3oz Rosemary Eucalyptus Bath Fizz, 5oz Rosemary Spearmint Chamomile Soap, .8oz Fresh Mint Leaf Lip Salve
Avocado + Chamomile 
1oz French Clay Facial Mask, 3oz Calendula Chamomile Bath Fizz, 5oz Avocado Oatmeal + Agave Soap, .8oz Chamomile Lip Salve