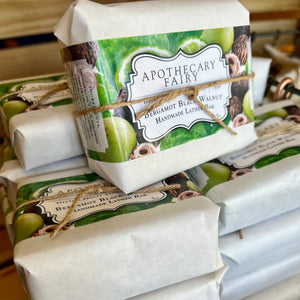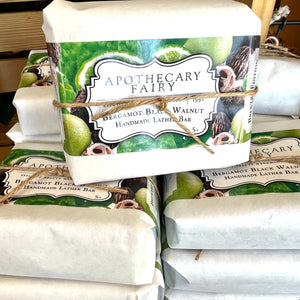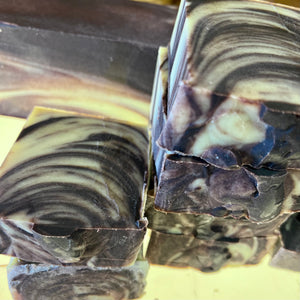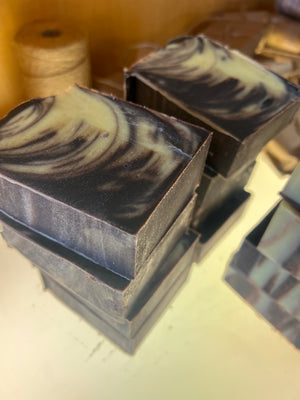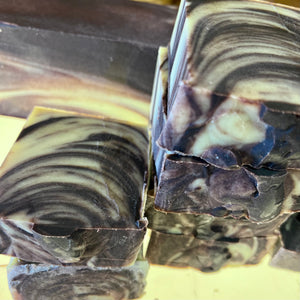 Bergamot Black Walnut Lather Bar 5oz
This was originally concepted for one of our clients whom I met at the Malibu Farmer's Market on PCH. She asked if we could make her a special facial soap with Bergamot but to make it slightly exfoliating but gentle. She ended up giving a sample of it to her esthetician and word traveled. It quickly because a mainstay of our collection and the rest is history!
Finely ground black walnut bark is swirled into a vegan blend of soothing plant-based oils and butters with steam-distilled Bergamot (Italian Bitter Orange) essential oil. This is a gently cleansing blend suitable for face and body. Bergamot is especially suited to soothe + calm blemished skin due to its special compounds. A must-have for your nighttime and morning facial care routine. Never abrasive. Pleasant citron peel aroma and rich, fluffy lather.
Ingredients: Fresh coconut milk, saponified organic oils of coconut, castor, olive, shea + cocoa butters, black walnut bark, steam-distilled Bergamot essential oil.