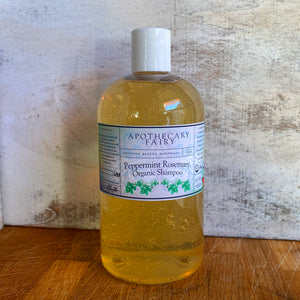 Peppermint Rosemary Organic Shampoo
A rich-lathering, sulfate free handmade shampoo made with pure essential oils. Our shampoo will cleanse hair gently and adds shine and bounce to lifeless hair.
Essential oils help to rid scalp of any dandruff and residue from previous hair treatments.  Finish with our Tangerine Lemongrass hydrating Hair Conditioner to further moisturize and soften hair or our leave-in Aromatic Jojoba hair and scalp treatment.
For those who color their hair, our shampoo is very gentle and will actually help to keep your color vibrant and lasting longer than conventional shampoos.
Ingredients: Distilled water, Lauryl Betaine, Sodium Chloride, Xanthan Gum, Aloe Barbadensis, Citric Acid, Benzoic Acid, Dehydroacetic Acid, Essential Oils of Peppermint & Rosemary, Paraben-free preservative.