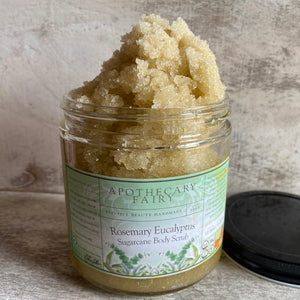 Rosemary Eucalyptus Leaf Sugarcane Body Scrub
Crystallized organic sugarcane is infused with aromatic Spanish Rosemary and Australian Eucalyptus Leaf with vitamin-rich organic oils of Avocado and Flax Seed for an exfoliating and moisturizing body scrub. Use in shower after washing or for a relaxing bath soak. A wonderful and quick way to have smooth, radiant skin with moisture lasting all day.
Ingredients: organic crystallized sugarcane (vegan), organic oils of Avocado and Flax Seed, non-gmo Vitamin E oil, pure essential oils of Rosemary and Eucalyptus leaf, finely ground eucalyptus leaves.