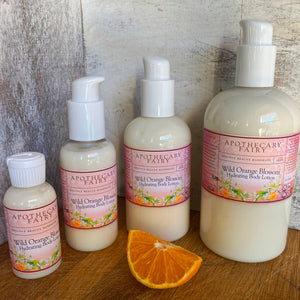 Wild Orange Blossom Hydrating Body Lotion
Our skin-soothing, natural lotion is freshly handmade using no parabens or synthetic preservatives. Easily absorbed into skin leaving it kissably soft and smooth. Oils of organic Avocado + Sunflower with Vitamin E with raw Shea butter and to create a lasting and hydrating lotion that nourishes your hands, feet and body. 
Ingredients: Distilled water, organic oils of Avocado, Sunflower + Shea butter, Vitamin E tocopherol, coconut emulsifying wax, pure essential oils of Sweet Orange and Petitgrain, paraben-free preservative.
Available in 2, 4, 8 + 16oz sizes.
If a skin allergy to any of the oils used in our lotion are a concern for you, we can acccommodate. Please message us and we will make substitutions and/or exclusions at no additional charge.