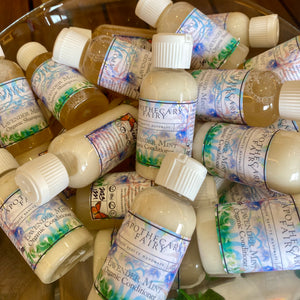 Lavender Mint Shampoo 2oz
2oz bottle of our Lavender Mint Organic Shampoo. Perfect to tuck into any travel pouch for a natural hair solve on the go! Leakproof containers with locking spout.
Shampoo Ingredients: Distilled water, Lauryl Betaine, Coco betaine, Sodium Chloride, Xanthan Gum, Aloe Barbadensis, Citric Acid, Benzoic Acid, Dehydroacetic Acid, Essential Oils of Lavender + Peppermint, Paraben-free preservative.