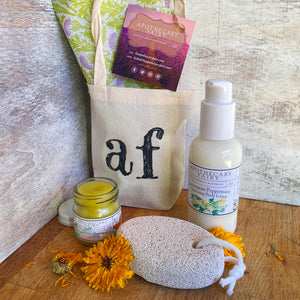 AF Foot Care Kit
This little gift set is perfect for someone who is on their feet most of the day. We are all multitasking these days so our feet get neglected! This is a welcome natural solve for dry, callused feet.
Cotton handle gift bag includes our 1oz Calendula Peppermint Foot Rub, 2oz Lemongrass Peppermint Foot + Body Lotion and natural Pumice Stone with hanging rope for easy shower access. 
Recommended usage: Apply pumice stone to bottoms of feet after soaking them in warm water for about 20min. Towel dry feet then apply Calendula Peppermint Foot Rub. Apply cotton socks and let absorb. Rest feet if possible for 15-30min. Feet will feel like new within 1-2 hours.